EFORT's aims and ambitions  or (mission and vision) towards e-learning is:
to provide future tools for education, complement conventional courses and congresses,
improve accessibility to eLearning through continuous availability,
partnering with National and Speciality Societies through existing initiatives,
step wise introduction of different eLearning techniques (Webinars, eLearning online modules etc.),
exploit EFORT membership network,
unlock grant application potential, and
raise the ability of surgeons to use e-Learning.
EFORTnet, EFORT's Community Platform and Resource Center:
https://efortnet.efort.org/group/network/elibrary
The EFORTnet eLibrary is an unique orthopaedic and traumatology password protected resource center with over 17.3oo educational documents, including  12.261 abstracts and 5.063 presentations from the past 7 EFORT annual congresses.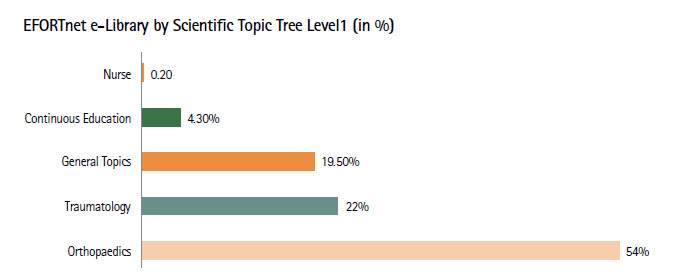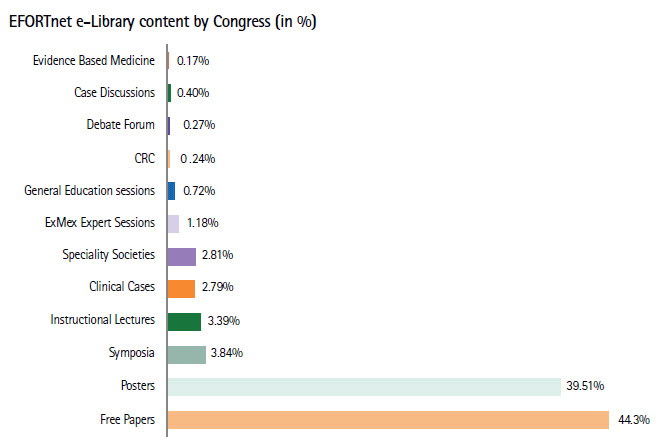 EFORTnet at a glance (as of 31 December 2016):
15.047 users
75.3 % users from Europe
115 countries represented
17.324 documents available on the eLibrary
EFORTnet, EFORT's Community Platform and Resource Center:
https://efortnet.efort.org/group/network/elibrary
The next planned online course will be the Basic Science and Research on-line course with the objective to support the required basic and advanced knowledge and skills for the orthopaedic community.
Who should attend:
Residents and young specialists that require updated summarized concepts in orthopaedic basic science to prepare for exams (EBOT, national registration & other)
Orthopaedic surgeons that plan to enter research - young specialists, residents or specialists planning to start or participate in projects, specialists screening new hypothesis to start new projects reviewing current state of the art and research opportunities.
This on-line course will integrate 4 moduli covering:
i)    study design
ii)    biology
iii)   biomechanics and biomaterials
iv)    fundamentals of general orthopaedic science.
Upon registration, the participants will receive
i)    lectures
ii)   material on the curriculum topics.
MCQs will be provided at the end of each presentation and attendance to the course will be awarded with an EFORT certificate. The launch is planned to take place in early June 2017.