2022 – Driving results, Making impact
Making sense of the new learning needs and behaviours is a fundamental principle for navigating the first year after two years of pandemic.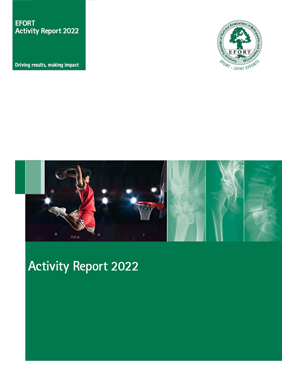 We have returned to an in-person congress in the same city as in 2019, edition for which we were intimately familiar with all aspects, from logistics over to estimated attendance and learning expectations.
In 2022, we were aware that the event would need to be downsized, but we had confidence that in-person education would prevail over webinar fatigue.
The congress, EFORT's educational offerings and advocacy for musculoskeletal health have the potential for financial strength and stability. We believe that by sensibly questioning and reevaluating the way we organise things, we can better align with CME/CPD training and meet the needs of surgeons.
Our focus has naturally gravitated towards activities that we believe will produce an immediate impact, and we have intentionally selected topics that will raise the intensity of debates and present a challenge in achieving consensus and common ground.
During the General Assembly Strategy Meeting in Lisbon, national delegates actively discussed "Educational Needs and Engagement with EFORT", and various topics emerged regarding what the future could hold. For instance, there was a need to find formats that enable experts to share their expertise more widely, as well as a desire to foster the application of specialist knowledge to a generalist's perspective.
Regulatory science has been discussed on several occasions, and it is clear that navigating the twists and turns of the MDR environment requires coordination, engagement, and resources to establish EFORT as a leading organisation in the field and provide the community and members with greater understanding and clarity.
Even during times of recovery, when efforts were focused on reaffirming "Purpose", the Board's actions were guided by the path towards Driving results, Making impact.
A number of concrete initiatives were implemented, despite the uncertainty, with the added challenge of an extended decision-making process and limited time to make informed choices on how to best engage and sustain the values that an organisation should embody.
Some of the initiatives that have been undertaken include a special webinar edition on Ukraine's medical and humanitarian needs, the recognition that even if targets were achieved a re-dimensioned congress will require new prerequisites, the development of a curriculum for subspecialty training, and a formal agreement between EFORT and UEMS for the management of the EBOT exam. And while the mid-term review of the CORE-MD program has identified some shortcomings, it has also paved the way for
bridging real-world data with clinical trial data for the evaluation of high-risk medical devices.
The 2022 results must be seen in this context. The financial aids received in 2021 were one-time. The activities, as implemented for 2022, even if more modest, allowed for some viability to be restored. The Head Office staff was able to redeploy all of its activities and jobs were preserved.
We anticipate more work ahead of us. An ongoing communication with partners aims to secure earlier commitments, providing more time to realise new and exciting projects. This will help us regain the certainty that reshaping EFORT represents a step forward in the career of a surgeon.
We value your commitment and look forward to continuing to work together towards our shared goals.

PDF Document | 38 pages | 4.4 Mb