Today the global Covid-19 pandemic has forced EFORT to take the difficult decision to postpone the next face-to-face EFORT Annual Congress to next year and to create a new educational offer in the Autumn.
The new dates of the 22nd EFORT Annual Congress in Vienna are from 30 June to 02 July 2021 at the same venue, the Messe Vienna Exhibition & Congress Center.
In parallel and in its commitment to deliver a high quality scientific programme, as well as offer progressive tools for training & education EFORT will organize the 21st EFORT Annual Congress as The Virtual EFORT Congress (VEC-Congress) taking place from Wednesday 28 October to Friday 30 October 2020.
We know that there will be a lot of questions arising from this decision and EFORT is eager to answer them fully as plans come to fruition. To this we have enabled a detailed FAQ webpage, and invite you to check it regularly.
EFORT Webinar  | NON-INFECTED PAINFUL TOTAL HIP ARTHROPLASTY
Monday 08 June 2020 | 19:00-20:00 Central European Time | Free-of-charge online registration
Chair: José Cordero Ampuero | Spain
The Webinar will address the following topics:
Introduction | José CORDERO AMPUERO | Spain| 5 min
Patient Expectations and 'Non-Hip' Origin of the Pain | Theofilos KARACHALIOS | Greece | 10 min
Occult Loosening, Implant Elasticity and Micro-Instability | Philippe HERNIGOU | France | 10 min
The 'Painful' Material: Wear, ARMD, Allergy | Alister HART | United Kingdom | 10 min
When it Comes From Anatomy: LLD, Impingement, Offset, Abductors, Great Troc | José CORDERO AMPUERO | Spain | 10 min
Discussion, Questions and Answers | All Participants | 15 min
Learning Objectives:
A patient operated on his/her hip complains of pain and/or is unsatisfied. You have discarded infection. What more?
Objectivize clinical situation: pain intensity, functional limitations, level of activity.
Other areas are cause of local pain: lumbar spine, abdominal hernias, genitourinary pathology.
Suspect: loosening without radiolucent lines or migration, too thick / rigid stems, subluxation in extreme positions.
Discard: poly wear, pseudotumors, particle disease, trunnionosis, ceramic fracture, ALVAL, allergies to metals.
Reconsider: lower limb discrepancy, inadequate offset, insufficient abductors, tightened adductors, localized trochanteritis and impingement in flex-internal rotation.
This Webinar is organized by the EFORT Orthopaedic Education Group, independent of any commercial education support.
More information: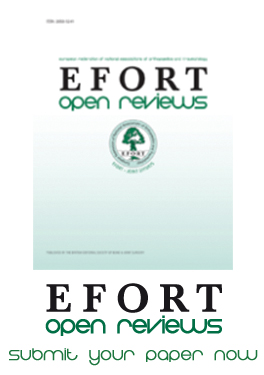 High quality instructional review articles on all aspects of orthopaedics and traumatology.
EFORT Open Reviews is indexed in PubMed with full-text provided in PubMedCentral (PMC).
EFORT Open Reviews (EOR), the official journal of the European Federation of National Associations of Orthopaedics and Traumatology (EFORT), is published  in partnership with the British Editorial Society of Bone & Joint Surgery (BESBJS) and provides high quality instructional review articles on all aspects of orthopaedics and traumatology.
More information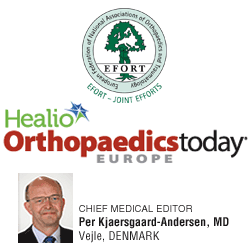 The April 2020 issue of OTE is now available!
OTE – Orthopaedic Today Europe is EFORT's official newspaper that is now available in a new digital format since beginning of 2016, full HTML and with a mobile-optimized format that includes new monthly publications for our global readership.
Each issue provides the same editorial features and clinical news content you have come to expect for the last 19 years from Orthopaedics Today Europe. A cover story and commentary is still anchor each issue.
UPCOMING EFORT EVENTS
Visit the EFORT Orthopaedic Event Calendar