LATEST INFORMATION FROM EFORT
The #EFORT2018 Congress in Barcelona closed its doors: thank you to all #EFORT2018Participants, #EFORT2018Faculty, #EFORT2018Industries & #EFORT018Sponsors! The main theme of the EFORT Congress Barcelona 2018 was "Innovation and new Technologies".

Highlights of the 2018 Congress included, among many others, robotics and computer-assisted surgery, 3D printing in orthopaedics and traumatology, biomaterials, advanced implants technologies, new diagnostic techniques, virtual learning environment, patient involvement in treatment and research.
We hope you enjoyed the EFORT's Annual Meeting and see you next year at #EFORT2019
in Lisbon, Portugal from the 5 to the 7 June 2019!
More information: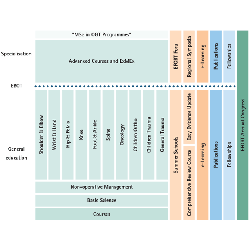 The European Orthopaedic & Traumatology Education Platform (EOTEP)
A framework for educational structure
EOTEP proposes a new approach in the field of the lifelong learning for Orthopaedic & Traumatology Surgeons practicing in Europe and beyond. The EOTEP is a framework for educational structure emanating from:
More information: www.efort.org/eotep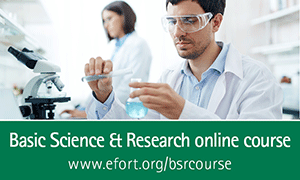 EFORT 2017 | Basic Science and Research Online Course
This free-of-charge online course chaired by Prof. Enrique Gómez Barrena supports required basic and advanced knowledge, and skills for the orthopaedic community via 4 moduli covering:
Study design,
Biology,
Biomechanics and biomaterials and
Fundamentals of general orthopaedic science.
This course will allow residents and young specialists that require updated summarised concepts in orthopaedic basic science to prepare for exams (EBOT, national registration & other), but also  Orthopaedic surgeons that plan to enter research,  young specialists, residents or specialists planning to start or participate in projects, specialists screening new hypothesis to start new projects reviewing current state of the art and research opportunities. Successful attendance to the online course will be awarded with an EFORT certificate.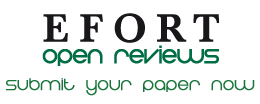 High quality instructional review articles on all aspects of orthopaedics and traumatology.
Breaking news! EFORT Open Reviews is now being indexed in PubMed with full-text provided in PubMedCentral (PMC).
EFORT Open Reviews is the official journal of the European Federation of National Associations of Orthopaedics and Traumatology (EFORT) and is published  in partnership with the British Editorial Society of Bone & Joint Surgery (BESBJS), it and the British Editorial Society of Bone & Joint Surgery (BESBJS) and provides high quality instructional review articles on all aspects of orthopaedics and traumatology.
Authors are encouraged to submit their instructional review papers for publication in EFORT Open Reviews. All papers are subject to rigorous peer review by our expert panel of reviewers – please check the Manuscript Guidelines carefully before submitting your paper via our ScholarOne Manuscripts site.
More information: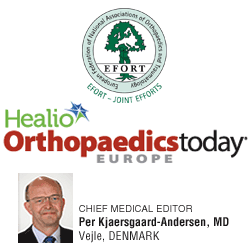 The June 2018 issue of OTE Orthopaedics Today Europe is now available!
OTE – Orthopaedic Today Europe is EFORT's official newspaper that is now available in a new digital format since beginning of 2016, full HTML and with a mobile-optimized format that includes new monthly publications for our global readership.
Each issue provides the same editorial features and clinical news content you have come to expect for the last 19 years from Orthopaedics Today Europe. A cover story and commentary is still anchor each issue.
UPCOMING EFORT EVENTS
Visit the EFORT Event Directory.