1st EFORT European Consensus Medical & Scientific Research Requirements for the Clinical Introduction of Artificial Joint Arthroplasty Devices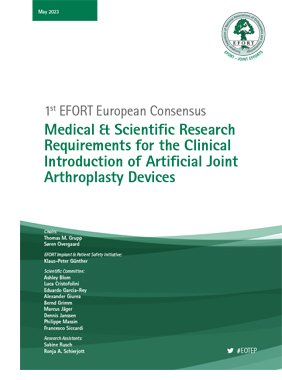 Innovations in Orthopaedics and Traumatology have contributed to the achievement of a high-quality level of care in musculoskeletal disorders and injuries over the past decades. The applications of new implants as well as diagnostic and therapeutic techniques in addition to implementation of clinical research, have significantly improved patient outcomes, reduced complication rates and length of hospital stay in many areas.
However, the regulatory framework is extensive, and there is a lack of understanding and clarity in daily practice what the meaning of clinical & pre‐clinical evidence as required by the MDR is. Thus, understanding and clarity are of utmost importance for introduction of new implants and implant-related instrumentation in combination with surgical technique to ensure a safe use of implants and treatment of patients.
Therefore EFORT launched IPSI, The Implant and Patient Safety Initiative, which starting from an inaugural workshop in 2021 issued a set of recommendations, notably through a subsequent Delphi Process involving the National Member Societies of EFORT, European Specialty Societies as well as International Experts. These recommendations provide surgeons, researchers, implant manufacturers as well as patients and health authorities with a consensus of the development, implementation, and dissemination of innovation in the field of arthroplasty.
The intended key outcomes of this 1st EFORT European Consensus on "Medical & Scientific Research Requirements for the Clinical Introduction of Artificial Joint Arthroplasty Devices"are consented, practical pathways to maintain innovation and optimisation of orthopaedic products and workflows within the boundaries of MDR 2017/745. Open Access practical guidelines based on adequate, state of the art pre-clinical and clinical evaluation methodologies for the introduction of joint replacements and implant-related instrumentation shall provide hands-on orientation for orthopaedic surgeons, research institutes and laboratories, orthopaedic device manufacturers, Notified Bodies but also for National Institutes and authorities, patient representatives and further stakeholders.
We would like to acknowledge and thank the Scientific Committee members, all International Expert Delegates, the Delegates from European National & Specialty Societies and the Editorial Team for their outstanding contributions and support during this EFORT European Consensus.
EFORT Consensus Book | PDF Document | 247 pages | 8 Mb