The Basic Science and Research on-line course was launched on 1 June 2017 at the 18th EFORT Annual Congress held in Vienna, Austria.
Its objective is to support the required basic and advanced knowledge and skills for the orthopaedic community.
Who should attend:
Residents and young specialists that require updated summarized concepts in orthopaedic basic science to prepare for exams (EBOT, national registration & other).
Orthopaedic surgeons that plan to enter research – young specialists, residents or specialists planning to start or participate in projects, specialists screening new hypothesis to start new projects reviewing current state of the art and research opportunities.
This on-line course will integrate 4 moduli covering:
i) study design
ii) biology
iii) biomechanics and biomaterials
iv) fundamentals of general orthopaedic science.
Upon mandatory registration, the participants will receive
i) lectures
ii) material on the curriculum topics.
MCQs will be provided at the end of each presentation and attendance to the course will be awarded with an EFORT certificate.
The EFORT eLearning Group has been established to support education and knowledge exchange in the field of Orthopaedics and Traumatology through advanced electronic learning tools.
EFORT PAST WEBINARS
FOCUS PROXIMAL HUMERAL FRACTURES
EFORT-SECEC Webinar | Saturday 20 January 2018 | 10:00-11:30 a.m. CET | REPLAY AVAILABLE IN EFORT eScience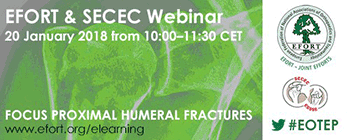 A joint collaboration between European Federation of National Associations of Orthopaedics and Traumatology (EFORT) and the European Society for Surgery of the Shoulder and Elbow (SECEC).
This 'Focus Proximal Humeral Fractures' Webinar focused on classification, indication and techniques and its objectives are:
demonstrating that PHF are treated very differently depending were you live,
showing how classification and new technology help the surgeon to analyse PHF and help decision making for treatment,
discussing indication for conservative, joint preserving and joint replacement treatment options based on case presentation including discussion of the actual literature,
presenting special aspects in children and adolescents.
The REPLAY version is available!
You may also like!
TREATMENT OPTIONS OF UNICONDYLAR KNEE OSTEOARTHRITIS IN THE YOUNG ADULT
EFORT Webinar | Tuesday 07 November 2017 | 19:00-21:00 CET | VuMedi
Age is the major risk factor for osteoarthritis (OA) of the knee, however young people can also have OA.
The aetiology is usually different in young population than the elderly population. Diagnosis is often delayed and sometimes difficult because of higher tolerance to pain. Some considerations should be taken into account when choosing a treatment modality in young due to their high expectations. Bearing this in mind, the diagnosis and treatment of knee OA in young adults should be scrutinized well.
The learning objectives of the webinar were:
To recognize the young knee OA.
To classify/score the level of OA.
To predict the outcome.
To choose the optimum treatment modality.
The REPLAY version of the webinar is now available, to access it, please LOG IN in your VuMedi Account or create a new account to access it!
More information:
UPDATE IN THE MANAGEMENT OF LOWER EXTREMITY BONE DEFECTS
EFORT-SOFCOT Webinar | Saturday 07 October 2017 | 10:00-11:30am CET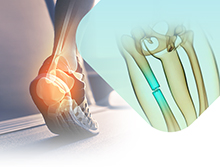 This webinar gathered the most critical information about bone defect therapy in lower extremities in a clear structured and comprehensive manner strictly independent from any implant manufacturer influence. It is a joint venture project of the SOFCOT and EFORT e-learning group gathering European experts in this field, and gives a comprehensive condensed overview from actual gold standards to innovative future solutions.
The REPLAY version of the EFORT-SOFCOT webinar is now available, to access it, please LOG IN in your EFORT-FMC Account or create a new account. Do not forget to confirm your account!
More information:
EFORT's aims and ambitions or (mission and vision) towards e-learning is:
to provide future tools for education, complement conventional courses and congresses,
improve accessibility to eLearning through continuous availability,
partnering with National and Speciality Societies through existing initiatives,
step wise introduction of different eLearning techniques (Webinars, eLearning online modules etc.),
exploit EFORT membership network,
unlock grant application potential, and
raise the ability of surgeons to use e-Learning.