Please note that the course is limited to 26 participants.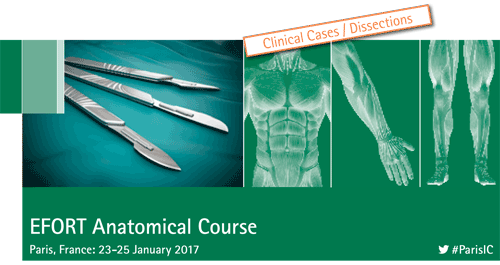 EFORT Anatomical Course Paris 2017 – Useful flaps for orthopaedic surgeons
Scientific Programme: Available soon
Participation: limited to 26 participants.
Fees: EUR 1.000 | Late registration (as of 7 January 2017) EUR 1.200
Language: Course language is English
Highlights:

Anatomical basis of the flaps
Muscle and fasciocutaneous flaps for the upper and lower limb
Fibula transfer
Clinical cases
Dissections

Flaps
The following flaps are scheduled to be done during the course:
1. Chinese flap
2. Posterior interosseous flap
3. Gastrocnemius muscles
4. Soleus flap
5. Flexors & extensors muscle flaps
6. Saphenous flap
7. Latissimus dorsi and scapular flaps
8. Sural flap
9. Supramalleolar flap
10. Lateral arm flap
11. Brachio-radialis flap and ulnar flap
12. Antero-lateral flap
13. Free fibula
Contact details: courses@efort.org | +41 21 343 4400
Online Registration
Online Registrations are closed for this event.
Date
23 January 2017 - 25 January 2017
All Day
Location
Ecole de Chirurgie de Paris - Paris - France