An interview with Hyuntae Jung, Life Sciences R&D of LG Chem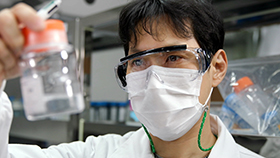 Hyaluronic acid is everywhere you look (literally in your eyes and your skin), and with its exponential growth as a component in treatments from cosmetics to oncological drug delivery systems, we focus on issues surrounding its clinical application for the treatment of osteoarthritis. Dr. Hyuntae Jung who works in drug development at LG Chem in South Korea gave information to EFORT about the history, use, safety and efficacy of hyaluronic acid as an injectable treatment for osteoarthritis viscosupplementation of the knee.
Hyaluronic acid has had a long history with numerous applications since it was first isolated from an animal source by Karl Meyer and John Palmer in 1934. With its first therapeutic applications for osteoarthritis in humans pondered by Endke A. Balazs and Donald Watson in 1967, hyaluronic acid treatments have not only benefitted from the numerous clinical studies and diverse applications the molecule has undergone over more than a half century of use but have also been refined for better safety and efficacy from its original almost exclusively animal-based sources and potentially toxic cross-linking roots to sourcing from fermented bacterial cultures and safer high-concentration equalized cross-linking technology (HICE).
Dr. Jung explains that a variety of osteoarthritis injections use hyaluronic acid derived from rooster combs (the typically red tissue atop a rooster's head), which was for a long period of time the primary source of HA for knee injections, but the recent trend has been a shift away from animal-derived HA to fermentation sources. "For almost 40 years, LG Chem has conducted R&D under the vision of 'science and innovation for saving life.'" Dr. Jung emphasizes, "Our non-animal origin HA has been marketed for orthopaedic and traumatological use since 1997 with proven safety and efficacy."
Safety
LG Chem manufactures high-purity/sterile HA for medical use controlling quality throughout the entire manufacturing process from raw material to final product. The company maintains such high manufacturing standards to best achieve efficient cross-linking and high viscoelasticity to simulate normal synovial fluid. "Because of its high biocompatibility," Dr. Jung emphasizes, "HA is a relatively safe base material for viscosupplementation."
Most of the currently developed hyaluronic acid viscosupplementation products are non-crosslinked hyaluronic acid (linear HA) or hydrogel form crosslinked with a crosslinking agent. Because linear HA is rapidly absorbed and degraded in the body, various crosslinking techniques are used to increase its duration. There are various types of crosslinking agents, and those that go unreacted increase toxicity. The most common cross-linking agent is butanediol diglycidyl ether (BDDE). As an example, residual or unreacted BDDE is considered toxic when it is greater than two parts per million, so Dr. Jung says LG Chem's R&D team has developed its own platform technology to reduce toxicity and increase safety. One such innovation is LG Chem's HICE cross-linking technology.
"High molecular weight hyaluronic acid is hard to handle, especially during mixing," Dr. Jung explains, "so we use specialised instruments to mix the raw materials in maximum homogeneity, resulting in a highly concentrated mixture of hyaluronic acid. The shorter the distance between HA molecules, or high concentration, the greater the likelihood that the molecules will cross-link with one another. This allows for higher mechanical properties, including complex viscosity." This process, he adds, allows for greater similarity to synovial fluid as well as reducing reliance on BDDE as a cross-linking agent.
"With HICE, we produced for example our latest single-dose HA injection (Hyruan ONE®), which was designed with fermentation-based HA and exceptional cross-linking without reliance on BDDE, so we simultaneously can maximize the effectiveness of the product for viscosupplementation while also increasing the overall safety." Thinking additionally of some clinicians and their convenience, Dr. Jung playfully quips, "I should also mention for the practitioners that one very simple benefit of Hyruan ONE® compared to other competitors is that it conveniently comes with a needle as part of an injection kit for osteoarthritis of the knee."
Efficacy
Turning to the effectiveness of treatment, we discussed with Dr. Jung his views on the 2013 the American Academy of Orthopaedic Surgeons (AAOS) guideline recommending against the use of HA injections for patients with osteoarthritis of the knee. Despite the guideline, overall usage of HA injections for treatment of OA has significantly increased. The 2013 AAOS guideline was based on "a lack of high-quality data to support the effectiveness of this procedure."
"The effectiveness of viscosupplementation depends on its viscoelasticity, duration, and interactions with materials in the intra-articular environment," Jung mentions, "So, we develop formulations with optimal viscoelasticity and duration by utilizing various synthesis and purification technologies to differentiate it from other competitive products." He reiterates that LG Chem is focused on "science and innovation for saving life" and that in his estimate orthopaedics and traumatology are among the therapeutic areas best poised to address improving the quality of life in patients. In his role in treatment development and production, he aspires to "transform quality of life by biomaterials," the way practitioners do so in their own clinical environments.
"Continuing study and development of HA is imperative. Future studies should certainly focus on specific applications of HA injections for orthopaedic surgeons," Dr. Jung offers, "It is clear that the AAOS over the ensuing years downgraded the strength of its recommendation and even commented in the 2021 recommendation that for viscosupplementation in OA of the knee, 'statistically significant improvements were associated with high-molecular cross-linked hyaluronic acid.'"
Jung mentions further that Osteoarthritis Research Society International (OARSI) in 2019 conditionally recommended intra-articular hyaluronic acid for OA of the knee and that the European Society for Clinical and Economic Aspects of Osteoporosis and Osteoarthritis (ESCEO) recommended intra-articular HA as a good alternative to NSAIDs for OA of the knee, with a more favorable safety profile, especially for older patients or in those at greater risk for NSAID-induced adverse events. In general, there has been a continual trend over the past decade toward positive recommendations for HA treatments, and especially for OA of the knee where other conservative treatments options have failed. While Jung wishes the recommendations for HA treatment of OA of the knee were more enthusiastic, he also acknowledges that an ever-increasing number of practitioners are finding significant support from HA for better patient outcomes, especially for those for whom more conservative options have not been effective. The more data compiled on the better outcomes for patients that HA provides, the faster the trend of stronger recommendation of the treatment will continue.
In the meantime, Dr. Jung is excited about future formulations and applications of HA. "Viscosupplementation continues to be safer with increasing efficacy. As a next-generation hyaluronic acid viscosupplementation, there are many ongoing studies, one of which looks at formulations in which clinical therapies or polymers with diverse properties are conjugated using HA as a platform. Research is also currently in the works to develop a formulation capable of stimuli–response of therapies that respond to specific conditions such as temperature or exposure to enzymes. No matter how HA treatments evolve in the future, Dr. Jung is convinced that HA plays a special role in orthopaedic practice for viscosupplementation as a treatment for OA of the knee. Jung cites a 2017 study to emphasize his point of the potential impact HA is poised to have on the practice:
"A number of potential mechanisms of intra-articular HA have been proposed, including protection of joint tissue, enhanced proteoglycan/glycosaminoglycan synthesis, anti-inflammatory effects, limitation of subchondral bone changes characteristic of early OA, mechanical benefits through direct lubrication of the joint capsule, and analgesic effects. This is the synthesis of my work and what LG Chem is working on to fulfill its vision. After all, my mission is to provide safe treatment options with better compliance and to enable patients to enjoy their daily lives and experience a better quality of life."
Dr. Jung and his colleagues at LG Chem clearly aspire to a noble cause, and we are excited to see further development of the clinical applications of hyaluronic acid for the treatment of osteoarthritis of the knee as hyaluronic acid continues to grow more popular and more widely used as a treatment option.

Further Reading
Meyer K, Palmar JW. The polysaccharide of the vitreous humour J Biol Chem 1934; 107: 629-34.
Balazs EA, Watson D, Duff IF, Roseman S (1967) Hyaluronic acid in synovial fluid. I. Molecular parameters of hyaluronic acid in normal and arthritic human fluids. Arthritis Rheum 10:357–376
Aggarwal A, Sempowski IP. Hyaluronic acid injections for knee osteoarthritis. Systematic review of the literature Can Fam Physician 2004; 50: 249-56.
Bhandari M et al., Ther Adv Musculoskelet Dis. 2017 Sep; 9(9): 231–246; Altman RD et al., BMC Musculoskeletal Disorders (2015) 16:321
---

About the Products or Services Mentioned
Neither the author of this article nor EFORT endorse any specific products or services. Any mention of products or services are informative and reader discretion is advised. Scientific information on any claims made or potential conflicts of interest may be obtained directly from the sources referenced.
About LG Chem
LG Chem is engaged in development, manufacturing, and global commercialization of pharmaceutical products. LG Chem Life Sciences seeks to expand and make global presence by focusing on key core therapeutic areas of Immunology, Oncology, and Metabolic Diseases (specifically, diabetes and related metabolic diseases). To achieve such, its strategy is to actively pursue global collaboration encompassing from asset-centric to strategic investment and collaboration. For more information on HA, visit www.lgchem.com/product/PD00000205.