In Lisbon, after two years of virtual congresses, the General Assembly of EFORT finally took place on 21 June 2022 face-to-face. During this meeting, the National Delegates voted in the new Board of EFORT.
We welcome the new Treasurer Prof. Dr. Gilles Pasquier, France who takes over from Theofilos Karachalios.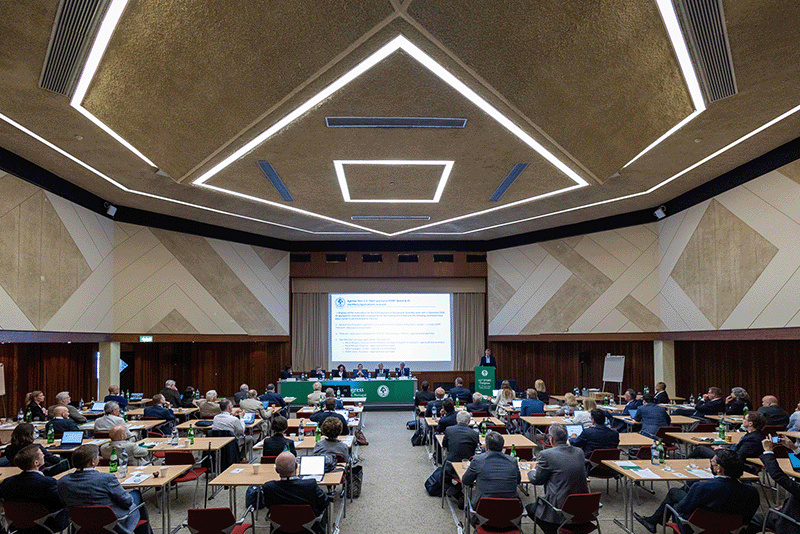 "I am honoured to be part of the Board of EFORT and will do my best to continue the work initiated by my fellow colleague Theofilos, in order to give EFORT the necessary stability to pursue and face transformation in the not-for-profit sector", declared the newly elected Treasurer.
To complete the Board elections, the EFORT National Delegates re-elected Prof. Dr. Katre Maasalu from Estonia for another term as Member at Large, who is also chairing the EFORT Bioskills Task Force, and Dr. René Mihalič from Slovenia to fill the other Member at Large position.
Prof. Dr. Klaus-Peter Günther, Germany is leaving the Board of EFORT. He was awarded the Honorary Membership of EFORT, conferred to him during the Opening Ceremony on 22 June 2022. "I experienced challenging times while serving the Board. During the VEChybrid 2021, together with Prof. Dr. Philippe Neyret we aimed at further fulfilling the mission of making the surgeon's training and education as accessible as possible during times of disruption." In his capacity of past President and EFORT Congress Co-President 2021 Professor Neyret was awarded Honorary Member of EFORT this year as well.
To assist the new Treasurer in this task, two new members of the Finance committee were elected: Dr. Marie Fridberg from Denmark and Prof. Dr. Philippe Adam, France. They replace Prof. Dr. Karsten Dreinhöfer who acted as spokesperson on the Finance Committee and Prof. Dr. Luigi Zagra who has accepted to take on the challenge to co-chair the EFORT Science Committee together with Prof. Dr. Søren Overgaard for the period 2022/2023. As of 2023 Professor Zagra will be chairing this committee full time.
Following the elections and the succession of previous members, the new EFORT Board for the period 2022/2023 is as follows:
EFORT President: Prof. Dr. Enrique Gómez Barrena, Spain
First Vice President: Mr. David Limb, United Kingdom
Second Vice President: Prof. Dr. Theofilos Karachalios, Greece
Immediate Past President: Prof. Dr. Li Felländer-Tsai, Sweden
Secretary General: Prof. Dr. Rob Nelissen, the Netherlands
Treasurer: Prof. Gilles Pasquier, France
Member at Large: Prof. Dr. Katre Maasalu, Estonia
Member at Large: Prof. Dr. Stefan Nehrer, Austria
Member at Large: Dr. René Mihalič, Slovenia
Young Member at Large: Dr. Filipe Lima Santos, Portugal
We welcome all new Board members, who took their positions immediately after the 23rd EFORT Annual Congress in Lisbon, and the new Finance Committee members and thank all Board members who have left the Board for their hard work and dedication over the past years.