The EOTEP platform offers different shoulder and elbow-related courses and/or webinars:
No Events
WEBINAR ON FOCUS PROXIMAL HUMERAL FRACTURES
EFORT-SECEC Webinar | Saturday 20 January 2018 | 10:00-11:30 a.m. CET | REPLAY AVAILABLE IN EFORT eScience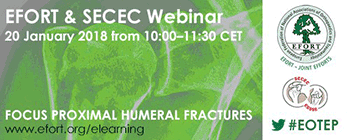 A joint collaboration between European Federation of National Associations of Orthopaedics and Traumatology (EFORT) and the European Society for Surgery of the Shoulder and Elbow (SECEC).
This 'Focus Proximal Humeral Fractures' Webinar focused on classification, indication and techniques and its objectives are:
demonstrating that PHF are treated very differently depending were you live,
showing how classification and new technology help the surgeon to analyse PHF and help decision making for treatment,
discussing indication for conservative, joint preserving and joint replacement treatment options based on case presentation including discussion of the actual literature,
presenting special aspects in children and adolescents.
Faculty and scientific programme | (PDF document – 1 page – 375kb)
REPLAY Webinar in EFORT eScience: https://efortnet.conference2web.com/#!webinars/29030
You may also like!
More information: