General Topics / Education
Wednesday 30 May
08:30-18:30
Session room: Munich
The EFORT Comprehensive Review Course (CRC) provides in a single day a quick analysis of the basic and fundamental knowledge of Orthopaedic surgery and Traumatology. The essential information for each topic is presented in a concise and brief way with a high degree of evidence. Experts in each field conduct the course which consists of approximately 20 presentations between 15 – 30 minutes long covering the following major topics:
Basic Science
Paediatrics
Reconstruction
Sport Injuries
Musculoskeletal Infections
Musculoskeletal Tumors
Spine (incl. Trauma)
Trauma Lower Limb
Trauma Upper Limb
Innovation & New Technologies.
Handouts with a summarizing article for each presentation are gathered in the CRC syllabus which is distributed on site (print version) to the registered participants of the course.
Date: Wednesday 30 May 2018 (full-day course)
Primary target attendees: Young orthopaedic surgeons and residents in training
Maximum capacity: 200 participants on a first-come, first-serve basis
Registration and Fees: The CRC course is a paying course and a pre-registration is mandatory. For further details on the course fee and attendance, please consult the registration grid.
19th EFORT Congress, Barcelona 30 May-01 June 2018
Programme for the Comprehensive Review Course (CRC – full day)
The online advanced version of the scientific programme is now available!
PDF document | 1 page | 370kb
– CLICK TO ENLARGE –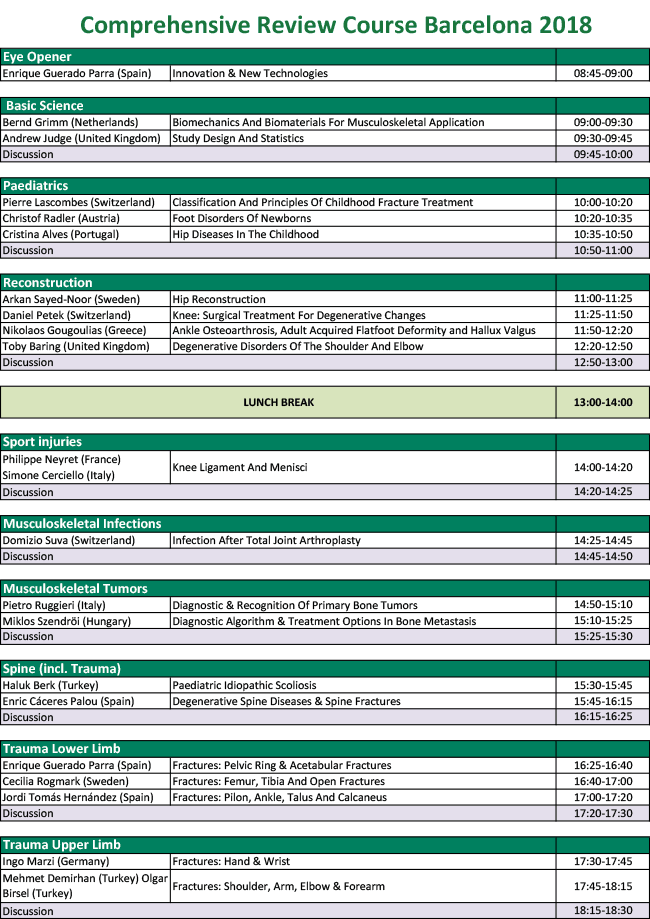 PDF Document | 1 page | 370kb