General Topics / Education
Thursday 31 May
08:00-12:15
Session room: Istanbul
Objectives
Provide a high value generic educational program covering key orthopaedic developments and professional standards updates for the trained surgeon and the surgeon in training.
Provide educational material in the form of knowledge skills and attitudes that will enhance best professional practice and allow an easy review of some common conditions (e.g. proximal humeral fractures) in a specific territory (e.g. upper limb).
Target audience
Established Orthopaedic practitioners wishing to update and maintain standards & Orthopaedic surgeons in training seeking educational material at a level of an orthopaedic exit exam (EBOT or National).
Programme of the session will focus on Proximal Femur Fractures.
19th EFORT Congress, Barcelona 30 May – 01 June 2018
Programme for the Evidence Update Course (EUC – 4 hours)
The online advanced version of the scientific programme is now available!
PDF Document – 1 page – 420kb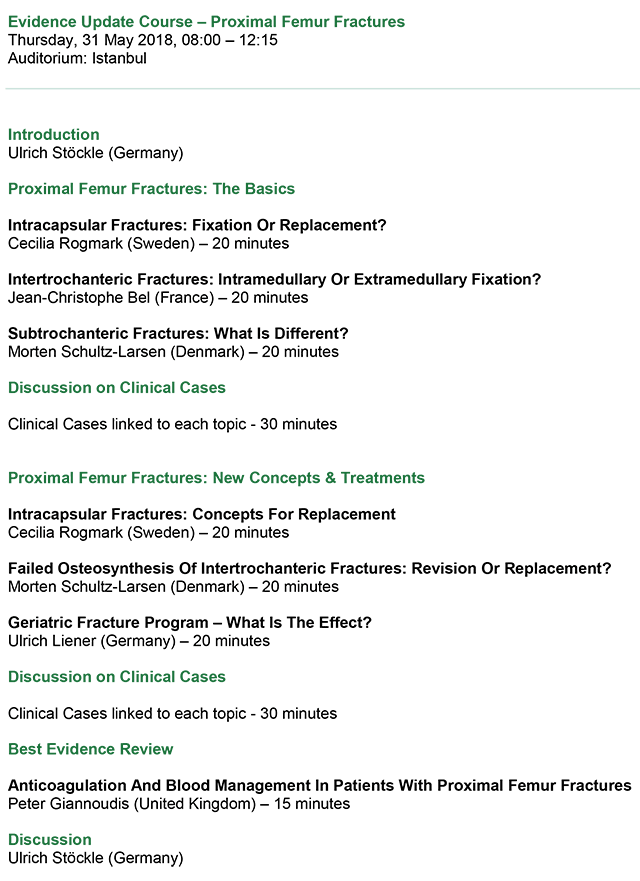 Primary target attendees: Established Orthopaedic practitioners & Orthopaedic surgeons in training.
Maximum capacity: 450 participants on a first-come, first-serve basis.
The EUC is a paying session and a pre-registration is mandatory. Attendance to the EUC is available for participants already registered to the Comprehensive Review Course. For other congress registered participants, the EUC session may be attended separately for an extra fee of EUR20.