DAY: THURSDAY 02 JUNE 2016 – 08:15 -18:30

Advanced Course on Total Knee Replacement: 08:30 – 12:00
Advanced Course on Total Hip Replacement: 15:00 – 18:30
A panel of recognised European experts with an in-depth experience in total hip and knee replacement will share their knowledge of key issues with a focus on day-to-day practice in both primary and revision surgery. The members of the panel will provide an update on the latest techniques and treatments for younger joint replacement specialists and more experienced senior consultants.
The 2 different sessions of the Advanced Course are held in the Geneva Auditorium (capacity: 1700 Pax).
The course is free of charge but requires a pre-registration which can be done via the online registration.
ADVANCE COURSE IN TOTAL KNEE REPLACEMENT
Room: Geneva
THURSDAY 02 JUNE 2016 08:30 – 12:00
Advanced Course In Total Knee Replacement programme (PDF document – 1 page – 12 kb)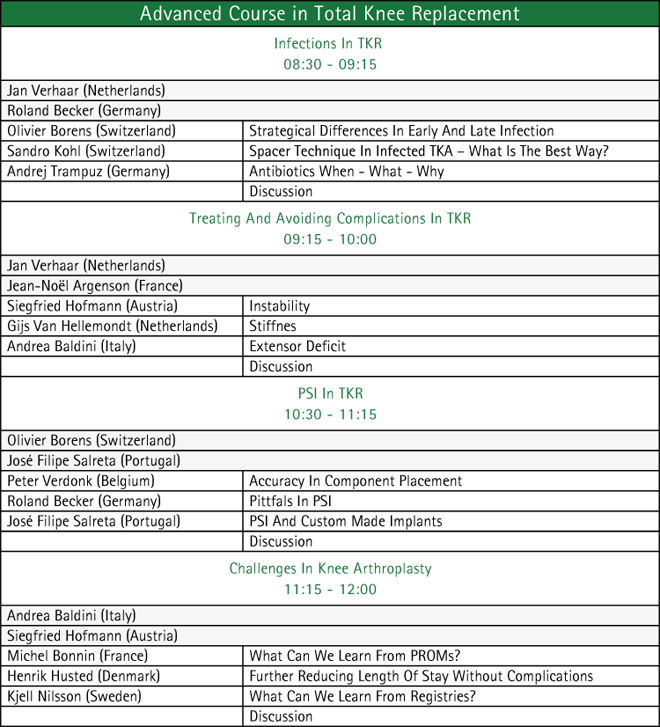 Advanced Course In Total Knee Replacement programme
(PDF document – 1 page – 12 kb)

ADVANCE COURSE IN TOTAL HIP REPLACEMENT
Room: Geneva
THURSDAY 02 JUNE 2016 15:00 – 18:30
Advanced Course In Total Hip Replacement programme (PDF document – 1 page – 11 kb)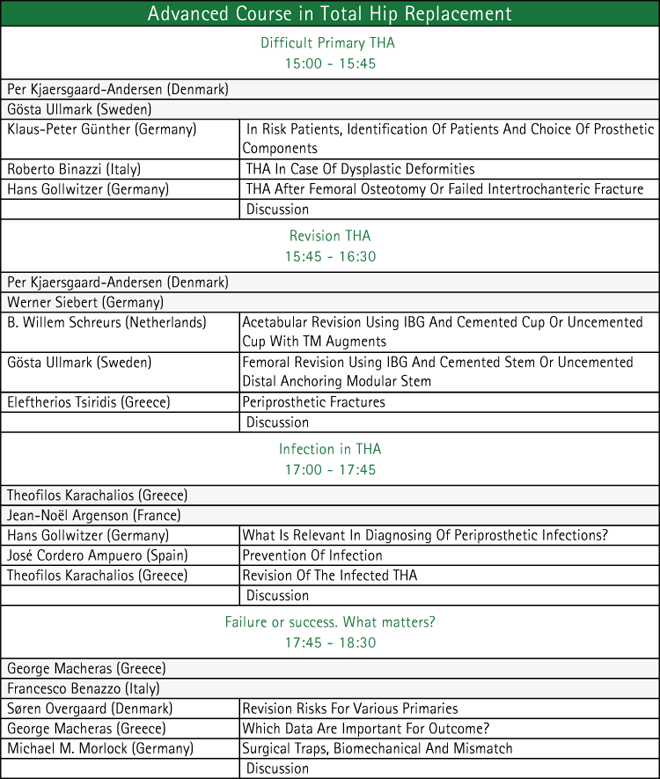 Advanced Course In Total Hip Replacement programme
(PDF document – 1 page – 11 kb)